Need a Chimney Sweep? -
Call Now! 07577 693227
I can offer a range of services besides the regular sweep.
Fitting or Replacing cracked pots.
I can replace cracked pots if neccesary. This is normally priced on the day on a per job basis.
Clean your fireplace.
I can re-blacken your fireplace if required. A lot of cast iron fireplaces and wood burners can be brought back to life with a bit of tender loving care. Of course you can do this yourself but it is a messy job. Let me take care of it for you. Cost is quoted on a job by job basis.
Fitting of liners and flues.
Some properties have very old chimney breasts or they are in bad states of repair. Fitting a liner or flue can stop the problem of soot and smoke from escaping the chimney wall and into your home. This of course is not just hazourdous to helth, but can also cause problems with your paintwork and brisckwork. If in doubt, you should always fit a liner.
Removal of birds nests.
Birds nests in the chimney breast are common, particulary if a fireplace has not been used for a while. I can remove these although only after the fledgelings have left. I won't remove nests with chicks in. It's not very sporting, and whilst I have a strong stomach the thought of killing birds for no reason doesn't sit well with me. The good thing is they normally nest in the warmer months. If it's cold, put a jumper on, relax and know that you can safely remove it in August, when the birds have gone.
There are of course more services can offer. Please call on 07577 693227 and I hope to answer them for you.
Below are some more general details on costs.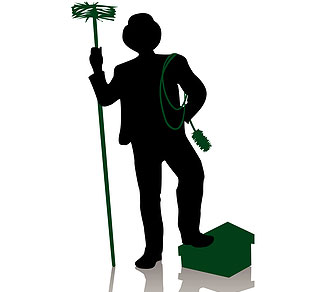 Chimney Sweeping
CCTV Inspections
Smoke Sound Tests
Fitting Chimney Pots
Cleaning / Restoring Fireplaces / Stoves
Stove Installations
Removing Birds Nests
Fitting Liners and Flues
Repairing Chimney Stacks

Basic chimney sweep cost
If all you're looking for is a basic chimney sweep, cost should be fairly minimal – though it always pays to ensure you hire an absolute professional, as the errors which may be made by an inexperienced chimney sweep could cost far more than getting it done by a professional in the first place. As a general rule though when hiring a chimney sweep, cost can range anything between £60 – £90. With the amount of time it takes to clean the chimney varying depending on the level of detail and the individual job. Cost can often be reduced for multiple orders – for example if you have a house with more than one chimney.
What is usually included?
With a basic chimney sweep, cost will usually include the cleaning of the chimney and a smoke test to ensure its safety.
What are the extras which can add to a chimney sweep cost?
When hiring a chimney sweep cost can be increased for a number of additional services which can often be required when it comes to having a chimney cleaned. Such additional services can include:
Object removal such as bird's nests and other such items which may have become lodged in the chimney Installation of protective devices such as guards to prevent birds from nesting within the chimney Chimney pot addition/removal
Remember that everybody's chimney is different. Some chimneys are built in a very simple manner, others are more complicated and tricky to clean. Because chimney sweep cost is often calculated by an hourly rate, the more complicated your chimney is to sweep, the more you can expect to pay – although that being said, a professional chimney sweep will be able to clean most chimneys to a professional standard within the space of around an hour.
It is also worth noting that chimney sweeps will often arrive in pairs, this is because quite often two people are required to do jobs like fitting pots and liners for stoves. The price should always be agreed beforehand and any competent sweep will be able to give you a quote before any work is carried out.