Need a Chimney Sweep? – Call Now! 07577693227
I am a member of the ICS – Institute of Chimney Sweeps. I provide a certificate of sweeping for your insurance for every fire I sweep.
My registered number is 0697.
I carry public liability insurance for both mine and your peace of mind.
You can find out more about the ICS here – http://www.instituteofchimneysweeps.com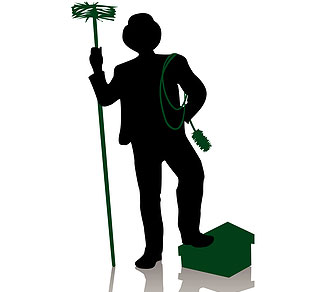 Would Santa get stuck up your chimney..? Hire a Bristol chimney sweep.
There's nothing quite like the crackle of an open fire on a cold winter's evening. An open fire can make your home warm, inviting and peaceful – a real authentic gem of comfort. However, with keeping an open fire, you also have to ensure you keep your chimney in good maintenance. That's why hiring a chimney sweep from time to time becomes a must. Chimney Sweep Bristol is at your service.
Why hire a chimney sweep?
Over the years, as your chimney allows the smoke from your fire to escape into the great outdoors, ash and soot builds up and coats the inside. This soot can over time become incredibly dangerous. A build-up of soot can cause, Blocked chimneys, House fires, Dirty carpets and Sooty smells in your home.
Whilst some of these are more serious than others, they are all consequences best avoided. A chimney sweep is a fairly inexpensive solution to keeping your chimney clean and safe all year round.

How often should I hire Chimney Sweep Bristol?
This question is all really dependant on how often you use your fire and the kind of fire you have. Whilst it is recommended you hire a professional chimney sweep once a year as a minimum, some people make far more use of their fire and need to call in a chimney sweep more than once in a year. Particularly those burning wood or coal – for these types of fire a chimney sweep is recommended every quarter. A professional chimney sweep should be able to tell you when to expect your chimney to need cleaning again based on the use you get out of it and the state it is left in.
Aren't there cheaper ways to clean a chimney?
Despite there being alternative ways to clean chimneys, these alternatives are often Ineffective, Difficult to manage and More costly in the long run
The most effective way to clean your chimney is to hire a chimney sweep who will know exactly what needs doing and will be able to clean your chimney to the best level of cleanliness. Aside from this, certain alternative methods people have come up with over time to clean a chimney actually work out far more expensive than hiring a chimney sweep, who can often be hired for as little as £60.
Of course, it all depends on what you need doing – if you need blockages removed, the cost of a chimney sweep may be slightly higher, but the safest way to ensure you can enjoy your open fire all year round is definitely through the professional services of a chimney sweep.