Need a Chimney Sweep? – Call Now! 07577 693227
What Are The Normal Chimney Cleaning Prices?
I normally charge £60 for a two story house in the following areas – Shirehampton, Avonmouth, Sea Mills, Southmead, Westbury on Trym. Basically anywhere within a 5 minute drive of Shirehampton.
I will cover anywhere in Bristol for £65 or the greater area. This is in line with the majority of chimney sweeps and cheaper than most. I will do a deal for multiple chimneys in the same property, or even if you have a friend on the same road that also requires their chimney swept.
Below is some more info on finding the right chimney sweep.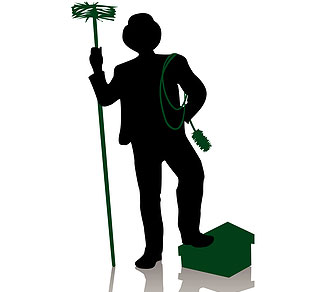 Because chimney cleaning is quite a specialist and condensed industry, there is not a huge amount known about chimney cleaning prices unless you have already had your chimney cleaned on a regular basis.
Here is a guide on what you should expect when researching chimney cleaning prices, so you know you are going to be getting good value with your service.
Hourly rate or per-job basis?
It doesn't really matter how a chimney sweep decides to price up the job, because whether charged by the hour or charged by the chimney, chimney cleaning prices tend to work out around the same per job anyway. Given that it takes on average around an hour for a chimney to be cleaned, the way a chimney sweep decides to charge his or her chimney cleaning prices is often irrelevant.
As a general rule and for a basic clean, you should be looking to pay around £55 (although this does vary) to have your chimney professionally cleaned and smoke tested. Make sure anything included in the chimney cleaning prices quoted is all under the same price – it's never nice to receive a nasty surprise and learn you are going to have to pay an extra £10 for the smoke test! Having said this, most good chimney sweeps will conduct a smoke test as standard in their regular chimney cleaning prices.
Cost of extras
Sometimes you need more than just chimney cleaning prices quoted – you need the cost of anything chimney related, depending on your circumstances. Extra charges are often calculated depending on the complexity of what you need. Some common extras offered by chimney sweeps are:
Removal of lodged objects. Objects which are lodged in your chimney can be dangerous if your fire is in use, and common culprits include bird nests and loose debris.
Installation of safety devices. This could be something as simple as a piece of wire fitted inside your chimney to prevent birds from nesting and causing a safety hazard
Installation of external chimney features. This could be if you need chimney pots installing to the top of your chimney – although often chimney sweeps receive requests to remove chimney pots.
All these extras will add to the total cost of your chimney cleaning prices, but most professional chimney sweeps will be able to add this up for you based on a simple evaluation of your chimney.
Don't get stung by rogue chimney cleaning prices – research the best.